We're delighted to have a guest post by Tony Blishen, whose translation of Aroma's Little Garden 《小香草》, by Qin Wenjun has just been published by the Better Link Press in New York. Having lived and worked in China in the 1960s, Tony is now a prolific translator of both fiction and non-fiction.  Aroma's Little Garden is the first children's book he has translated, and in November won a Shanghai Translation Publishing Promotion Award (《上海翻译出版促进计划》 翻译资助). And, My Father with a Heart of Stone, the final story in Aroma's Little Garden, just won the author the fiction award in the 2016 Chen Bochui International Children's Literature Prize. Congratulations to both of them! 
Tony writes:
As a jobbing translator, I admire the great nautical novelist Patrick O'Brian, who, when asked how he approached the act of translation replied tersely: 'I just sit down and do it.' Fiction only accounts for a quarter of my output but it is something that I value as a change from non-fiction where once you have mastered the direction in which the author is travelling you are dealing with ideas rather than people. With fiction you have both the privilege and responsibility of being trusted with people's lives.
Aroma's Little Garden is not quite a novel of childhood with a narrative that runs from start to finish, but a collection of three inter-related stories in which Aroma is the principal character. The provenance of these translated tales is quite complicated. Chinese fiction in translation is, for Chinese publishers, not an entirely profitable venture. So a publisher will decide on the optimum page length of the book and the original material is then adjusted to fit. This may offend the literary purists of the west but in China there has been a long and respectable historical tradition of editing.
Furthermore, the Chinese reader expects value (sometimes measured in length) for his or her money and so a Chinese novel, say, will tend to be longer than its western equivalent. The outcome of all this is not as dire as you might think. The editing is skilful and the spirit is retained even if some of the detail is no longer there. So Aroma's Little Garden is a portmanteau in which the three tales are:
Aroma is not Stupid 《香草不是笨小孩》 – originally published in April 2012 by the Tomorrow Publishing Company (明天出版社) with a length of 79 pages. The translation includes all the original sub-stories, but the word length and hence number of pages is reduced.
秦文君:《香草不是笨小孩》, 明天出版社 2012 年 ISBN9787533267841  Tomorrow
The Garden Princess 《小花园国的公主》 – this was originally the first part of the series The Sunflower That Could Dance 《会跳舞的向日葵》 published by the Hunan Youth and Children's Publishing Company (湖南少年儿童出版社) in June 2012 with a length of 152 pages. All the original sub-tales are included except one. Length reduced.
秦文君:《会跳舞的向日葵》 系列, 湖南省儿童出版社 2012 年 ISBN 9787556205578  Taobao
My Father with the Heart of Stone (我的石头心爸爸) – published on 1 January 2015 by the Youth and Children's Publishing Company ( 少年儿童出版社) at a length of 121 pages and 29,000 characters. Text for translation edited down to 18,191 characters resulting in an English translation of 17,900 words.
秦文君:《我的石头心爸爸》, 少年儿童出版社 2015 年  ISBN: 9787532496129 Douban
Herein lies the first contradiction – the covers of the original Chinese editions appear to Western eyes as cute, almost babyish, as though designed to appeal to Chinese girls of a certain age. One Chinese bookseller's website suggests that the book is suitable reading for children aged 3-6. I tried out an early draft of the translation on one of my younger grandchildren who observed that the story may have been for children but the language, he thought, was not. This may have been due to defects in my draft, but it suggests that there is a difference, if not a contradiction, between western and Chinese concepts of childhood. Western readers therefore should expect something rather more mature and in places brutal than the age range might indicate. Force of circumstance and the support role of children within the Chinese family oblige them to grow up faster than western children.
Let's look at an example. This is a scene from one of the sub-stories Washing in Soup (用汤洗澡), in which Aroma's desk-mate and rival at school, a particularly nasty child called Little Ox, takes it into his head to revenge himself on Aroma's nurse, Auntie Mai, for some perceived slight by adulterating her carefully prepared bath water.
Little Ox's younger brother Runthead is playing happily with Didi, Aroma's younger brother – to Little Ox, it is an outrageous display of solidarity with the enemy.
'Bastard!' The sound of a single curse. It was Little Ox…… Little Ox ordered Runthead to go back to the teacher straight away but Runthead was unwilling and just stood there. Little Ox put on a display of power and kicked him in the crotch. There was an expression of great pain on Runthead's face. He covered himself with his hands but dared not say anything.
Aroma comes to the rescue and Little Ox is bested. Both Aroma and Little Ox are told off by the teacher for fighting in public. The nature of Little Ox's assault is not treated as remarkable. The real crime was the offence against social harmony caused by fighting, not the vicious attack on an individual. Thus, the parameters of what determines acceptable behaviour for children are set differently. The translator must be aware of this and avoid the trap of unconsciously imposing different values on the characters in the pages before him. Equally, you would not expect a passage like this in a western children's book.
Growing up is one of the themes in these stories. Another is the difficulty of being different in a conformist society. Yet another is the fragile relationship between daughter and father. One of the difficulties I faced in giving these themes shape in translation was naming the characters. Names had to be easy for the English reader to grasp and remember, particularly for the principal characters. No English reader, I think, would find it easy to identify with Xiangcao, or even Fragrant Grass, or, worst of all, Vanilla, yet this is Aroma's name in Chinese (香草). Aroma she became and I think it suits her well. There were similar decisions to make for the other characters too, including my favourite, Auntie Mai, who, by turns over-indulgent and financially hard-headed, holds the family together.
These themes run through the first two stories, Aroma is not Stupid (香草不是笨小孩) and The Garden Princess (小花园国的公主), and culminate in the final story, My Father with a Heart of Stone (我的石头心爸爸), a moving autobiographical tour de force and lament for her father in which Aroma and the author Qin Wenjun become one.
At the Chen Bochui Award ceremony this month, Qin Wenjun described how a reader had told her that when reading this story to her children 'her eyes had been filled with hot tears'. The contradiction here is that it is the cumulative effect of what is described that moves the adult to tears. An adult reader knows the political background beyond the story, but a child, unaware of the background, might not necessarily find it so moving. Where does this leave the translator? The background is darkly implicit and barely touched on in the text as translated. The more experience one has, the larger it looms. Fortunately, or unfortunately, I was painfully aware of the background through personal experience and that knowledge provided a context for translation.
Consequently it is essential to know something about the author. Qin Wenjun was born in 1954 and grew up in the Shanghai of the 50s, wracked by political movements and campaigns that would have left barely any family untouched. The Cultural Revolution followed and in 1971, at the age of 17, she was separated from her family and, like so many other 'educated youth', despatched to the countryside. Qin Wenjun was sent to Heilongjiang, the most northeasterly province of China, with a climate akin to that of Siberia. She did not start writing until ten years later. None of this is explicit in these stories but it informs the whole and the Chinese reader is aware of it. It is impossible for the translator to resolve this contradiction short of extensive footnotes, and footnotes have no place in children's stories. So, these stories can be read on two levels, as children's stories pure and simple, but by adults as sensitive glimpses of a childhood that was happy in parts despite being spent in circumstances that were tragic for many.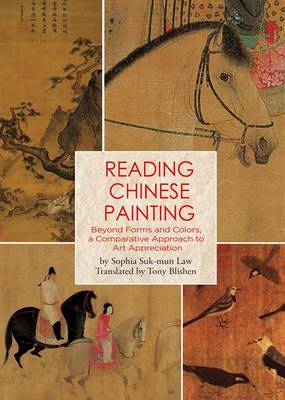 Tony Blishen came late to translation after a career in the British diplomatic service. His first translation was published when he was 79 and there have been eleven others since. His latest non-fiction translation for the Better Link Press, Reading Chinese Painting by Sophia Suk-mun Law has also just been awarded a Shanghai Translation Publishing Promotion Award (《上海翻译出版促进计划》 翻译资助). Congratulations to Tony for translating two of the five award-winners!
Reading Chinese Painting: Beyond Forms and Colors, a Comparative Approach to Art Appreciation, by Sophia Suk-mun Law, translated by Tony Blishen (Better Link Press, 2016) ISBN: 9781602200241  Waterstones